A work in progress
I thought that you might like to see how one of my paintings develops. This is what I'm working on right now. It's not finished yet – the orange sections in particular need reworking. Its number 3 of my Black Series of abstract works.
I started by covering the canvas with cadmium yellow acrylic. Then let it dry to prevent the next layer of colour from mixing with the yellow and muddying. At this stage I was using ultramarine, emerald green, cadmium orange and cadmium red. Putting it on the canvas instinctively. There was already a sense of excitement at this early stage.
I continued adding more of these 4 vibrant colours to the canvas while also adding black. There is more of a sense of movement on the canvas at this stage which I wanted.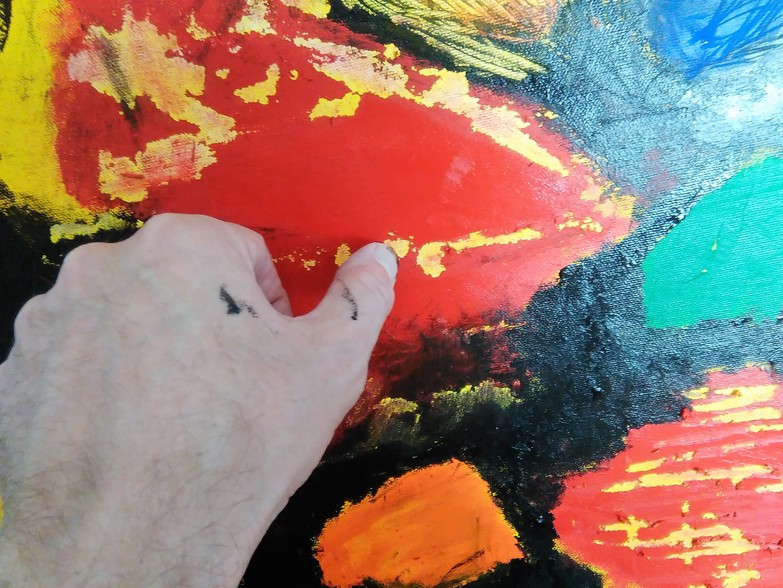 A lot of my work is torn back  or scratched into  to reveal the underlayer – I use my hands as well as a wide variety of tools.
At this point I had added more layers of paint and then let it dry for a while before marking into the canvas. Particularly in the red sections. I scraped back the orange almost to nothing in several sections but didn't like the result so will be working on this next. The painting still lacked something. I added cobalt blue which I think brought the painting alive.  I'm really  happy with how it looks – at this stage there is still a lot more to do before it's finished – but its looking good. Look out for the final version on my Artworks page or see it by clicking here 
Read More ...